Using a hairdryer can cause a lot of damage to your hair. This dry hair cap can make your hair dry in five minutes. It only takes five minutes.

★
SUPER WATER-ABSORBENT
Super water-absorbent, fast-drying, time saver, drying your hair 100% naturally Quick Magic Hair Dry Hat!  Electric hair blower no longer needed!  Reduces the risk of split ends.
★ DURABLE AND SOFT
100% superfine composite fiber material with a button to secure your bath towels.  Your hair will not slip when you take a bath.  Extremely easy to use!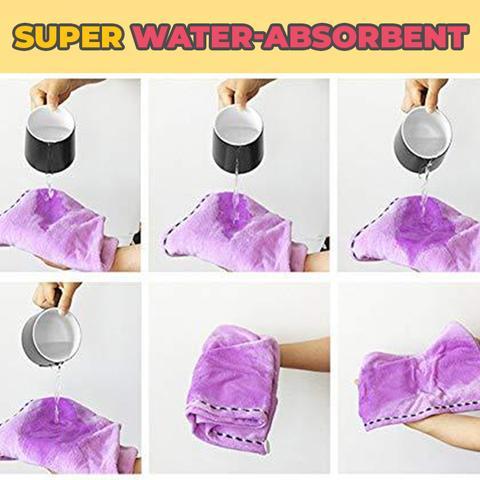 ★ VERSATILE
The Quick Magic Hair Dry Hat is ideal for everyday use at home, gym, and travel.  Great assistant in facial, bath, makeup, face wash. Fits all hair types and lengths.
★ PROTECT YOUR HAIR
Using the hairdryer will do great damage to your beautiful hair. The towel will absorb moisture in your hair throughout this time. It is the softest least damaging way to dry long hair.
★ HOW TO USE?
(2 METHOD)
1. Bend to make your hair hang down, put on hair towel on top of head (the end with button)
2. Wrap your hair with the hanging part of the towel
3. Pull up the secure loop across your head and fix it under the secure button.
SPECIFICATIONS:
Material: Coral Fleece (Microfiber) 
Measure:
60cm x 20cm/23.6" x 7.9"
Applicable People: Women / Men / Teen
Weight: 3.40 Oz (96.38g)
Machine Washable: Yes
Secure Button: Yes
Washing Tip: no softener, bleaching or dry cleaning
HOW IT WORKS
✓ Keep your head warm and cozy
✓ Super-Absorbent and Quick Drying
✓ Help you have less blow-drying time

This two-sided hair towel features one side of ultra plush microfiber material and the second side of medium terry microfiber material. It's super soft.
They not only save you time but also minimize the damage caused by friction from bath towels and substantial heat damage from blow dryers.

After washing your hair, wrap it in the towel and secure it with the button. You can be sure the hair towel will not slip off. Your head stays warm and cozy as your hair dries.

The advanced fabric absorbs more than 10 times its weight in water. This means that it'll work faster and more efficiently to dry you off, and it'll stay fresh longer because it dries out quickly to prevent mold, mildew and bacteria growth.